Context
Within its strategic framework, Coca-Cola FEMSA manufactures and markets concentrates and syrups for non-alcoholic beverages, being the public bottler with the highest sales volume in the Coca-Cola System, committed to the generation of economic value, social and environmental well-being.
Challenges identified:
The objective of the project focused on improving the productivity and safety of active personnel in the plant with the reduction of occupational risks. It also sought to generate the progressive automation of reports for the required payroll exercises.
Reduce labor risks in industrial plants due to accidents or incidents.
Reduce COVID-19 contagions and sick leave.
Eliminate worker downtime and operational deficiencies
People Safety & Productivity, the solution
Coca-Cola FEMSA repeatedly promotes the development and quality of life of its employees as its main mission. In order to promote this model of well-being in the work environment, WITRAC helped establish a solution focused on the productivity and safety of its employees using technology that would allow them to achieve their goals. In this case, WiBeacon IoT infrastructure and integration to its cloud platform.

By activating WiBeacon IoT devices, composed of Beacon tags and BLE beacons that facilitate the process of identifying and locating people (or elements) in real time, automated monitoring of personnel present in industrial plants was achieved on the fly.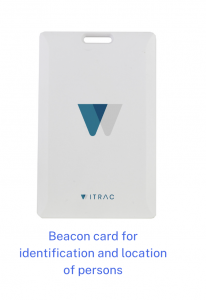 By connecting the IoT infrastructure with the artificial intelligence of WITRAC CORE, data generation and analysis of relevant insights was achieved, allowing the immediate detection of accidents or incidents in industrial plants, for example, to send immediate alerts for stays in hazardous areas, alerts for inefficient or unproductive groupings, which also put the health of team members at risk.
In this way, the platform generated automated reports that gathered attendance KPIs, length of stay, location control and monitoring of personnel behavior in the plant related to overtime, linkage to certain vehicles and traceability on site.
Results obtained